Intravenous Immunoglobulin (IVIg) Therapy
IVIg has been used to treat patients with PI since the 1980s.6,7 It is a purified immunoglobulin type G (IgG) biologic made from the pooled plasma of thousands of healthy human donors.3,4 IVIg products consist of mostly IgG antibodies and trace amounts of IgA, IgM, and other plasma proteins.7 Today, IVIg products are FDA approved for various, differing indications, including:
Chronic immune thrombocytopenic purpura (ITP)
Common variable immunodeficiency (CVID) – a group of PIDs that have similar features but different underlying causes
Primary immunodeficiency disorders associated with defects in humoral (antibody) immunity
Wiskott-Aldrich syndrome
Although IVIg is FDA-approved for the immunological disorders listed above, it continues to be studied for many other immunological disorders and is frequently used as an off-label treatment for many disorders, conditions, and diseases. However, it has not been shown to be effective in all immunological conditions in which it has been studied. It has also been reported as effective in some clinical studies in treating some neurological and inflammatory conditions.2
The dosing (how much) and intervals (how often) of IVIg treatments are unique to each patient and IVIg product. Clinicians adjust the doses and dosing intervals to keep the patient in good health, which is referred to as the clinical response.1 Dosing and intervals are also regulated to avoid any harmful side effects, called adverse events that might occur from the therapy.1 To monitor a patient's clinical response while on IVIg therapy, prescribers will request blood work periodically to track:1,3,4,8
The IgG levels in the patient's blood over time
How the patient is responding to the biologic
How often the patient continues to get sick
The clinician will also monitor other blood levels, such as complete blood counts (CBC) and measures of liver and kidney function.9
Because IVIg products are not identical, each product affects each patient differently.7 For this reason, it is essential to work with your healthcare provider to identify which IVIg product is best for you.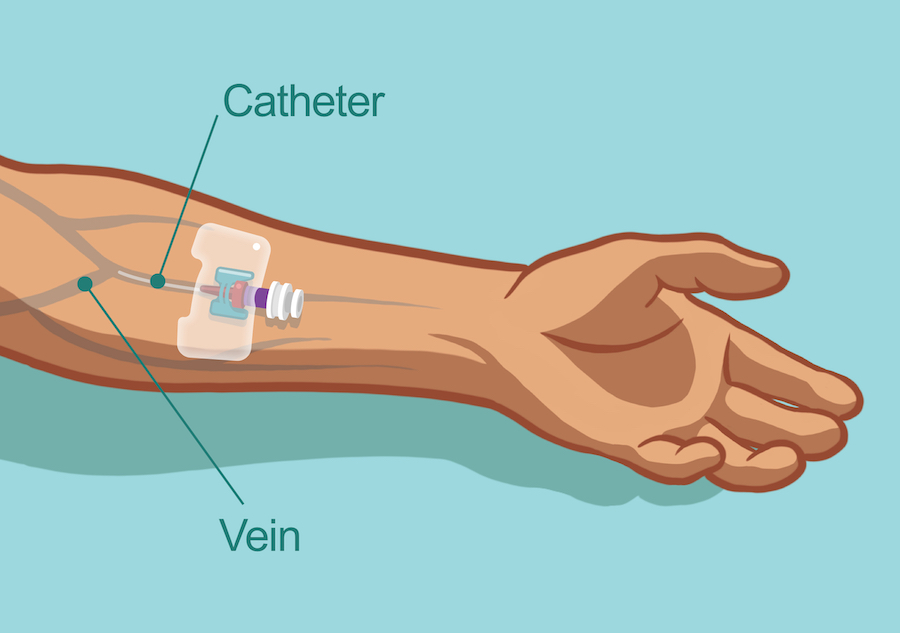 Figure 1: Intravenous access through the arm, using a catheter.
In the case of patients with PI, IVIg infusions should be given consistently—usually every 3 to 4 weeks.3,4,10 During the treatment session, a nurse who is trained in the administration of IVIg therapy will use a needle (called a catheter) to infuse the prepared Ig formulation directly into the patient's vein.11 (See Figure 1 for an example of venous access in an arm.) Depending on the patient and circumstances, IVIg treatments can be administered in a hospital or outpatient setting, doctor's office, or patient's home—but always scheduled in advance.4
The length of time it takes to infuse IVIg from start to finish varies, but usually takes between 2 and 6 hours.11 This duration includes the time needed to prepare the supplies and other pre-medications, place the IV catheter, and administer any pre-hydration fluids that might be required before the infusion begins.
The full dose of IVIg is administered all at once directly into the patient's bloodstream (referred to as the circulatory system).4 Thus, a large amount of antibodies enters the circulation in a short time and is used up over the next few weeks, causing the IgG levels to be at their highest right after an infusion and at their lowest just before the next dose is due.4,12 (See Figure 2.) These fluctuating IgG levels are referred to as peaks (highest measures) and troughs (lowest measures).
The healthcare provider has 2 primary goals:
To make sure the patient is tolerating the prescribed IVIg product.
To keep the circulating IgG levels balanced, even at their trough levels.
Therefore, prescribers will order routine lab tests to continually measure and adjust (or titrate) the IVIg dosing.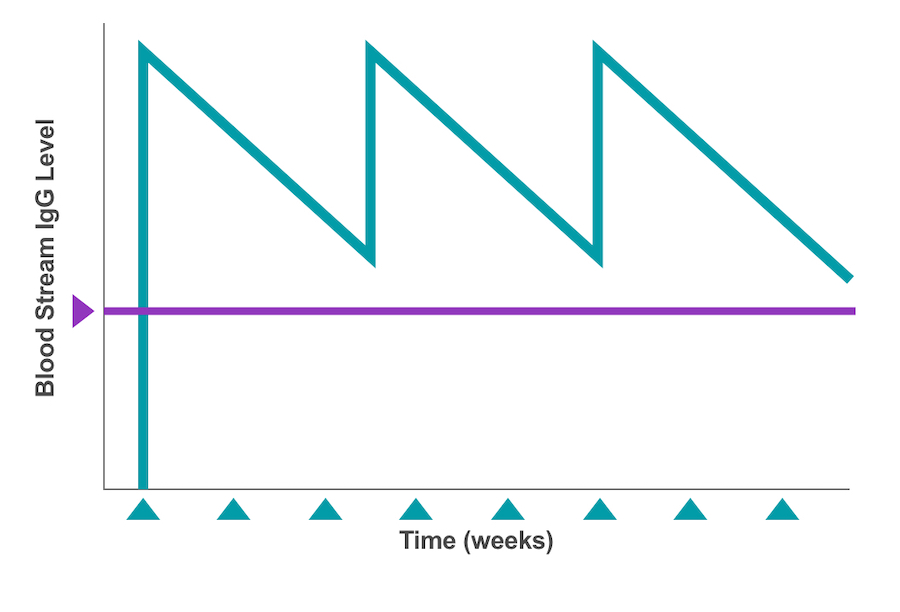 Figure 2: Bloodstream IgG levels showing peaks & troughs at 3- to 4-week intervals11
For patients with PI, dosing intervals are adjusted to achieve an IgG trough level of more than 500 milligrams per deciliter (mg/dL).3,4 To accomplish this, the starting point for most IVIg maintenance dosing is between 400 milligrams per kilogram (mg/kg) and 600 mg/kg per month (or every 3 to 4 weeks).3 These adjustments are important because PI patients who receive IVIg are often at higher than average risk of infection as they approach their IgG trough levels.4 This occurrence, which is also known as wear-off, may increase the risk of illness for patients on longer dosing intervals or administration cycles.4
Even though IVIg is considered safe, it can sometimes cause adverse effects both at the injection site (local) and in the body (systemic). Most reactions are mild or moderate, but some can be severe.13 Severe systemic reactions, however, are usually self-limiting and rare.7,13 Healthcare providers typically use approved mitigation or relief strategies to help reduce or even prevent some of these adverse events.13,14 For example, a person might be at risk of developing post-infusion headaches if they have a history of migraines. For these patients, the prescriber may slow the rate of infusion or add a non-steroidal anti-inflammatory drug (NSAID) to the prescription order as a strategy to avoid any potential infusion-related headaches.13,14 If a mild or moderate adverse event occurs during an infusion, the nurse can adjust the rate or stop the infusion, which is usually all that is required to alleviate the symptoms.13,14
However, because every Ig product is unique, not all patients can tolerate all products. Therefore, to relieve persistent product-related symptoms that cannot be controlled or managed with established procedures, a prescriber may switch a patient from one IVIg product to another, or from IVIg to SCIg.1
Be sure to tell your healthcare provider if you notice any adverse reactions, including any of the following symptoms:
Headache
Body aches
Fevers/chills
Diarrhea
Muscle cramps
Nausea, vomiting, or both
Symptoms of infections