General principles of good hygiene are essential for patients with primary immunodeficiency diseases and their families. This includes regular bathing or showering and the use of soap. For some patients, the use of special germ-killing soaps may be prescribed.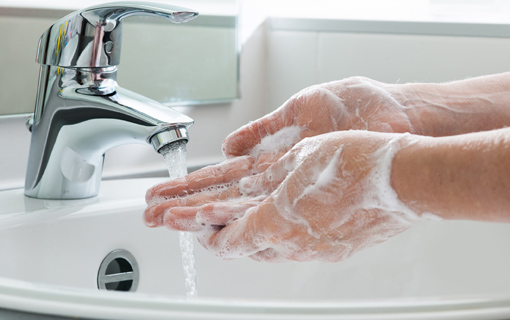 Hand-washing: Regular hand washing should become routine – before and after meals, after using the bathroom, after blowing the nose, coughing, petting an animal, gardening, or visiting or caring for a sick person1 – any time there is a concern that excess germs have gotten onto one's hands
What is the correct way to wash your hands? Wet your hands thoroughly. Lather up with soap or cleanser and rub it all over – into your palms, the backs of your hands, and your wrists. Don't forget to clean under your fingernails and between your fingers as well. Scrub for at least 20 seconds – that's probably longer than you think! Rinse under running water and dry your hands completely.1
When hands are not visually dirty, alcohol-based hand sanitizers can be an effective alternative. These have the advantage of being able to neutralize germs, are portable and can be applied rapidly. The regular use of hand gels has been shown to reduce the occurrence of colds and other viral infections. Individually wrapped and disposable hand wipes are another alternative to soap and water and are excellent for on-the-go use.
Dental care: Some individuals with a primary immunodeficiency are prone to tooth decay and to infections that stem from having decayed teeth. Regular visits to the dentist, proper brushing, and flossing should be a key part of the regular health regimen.
Coughing and sneezing: Cover your mouth or nose with a tissue when you sneeze or cough, then throw it away. If no tissue is available, cough or sneeze into your elbow rather than your hands – this will help prevent you spreading germs to others.1
Skin care: Wash and bandage all cuts, or other openings in your skin, such as insect bites. Do not pick at wounds or blemishes, or squeeze pimples. Use insect repellents when visiting mosquito- or tick-prone areas.1