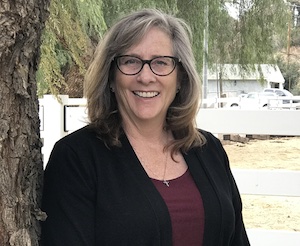 Not My Fault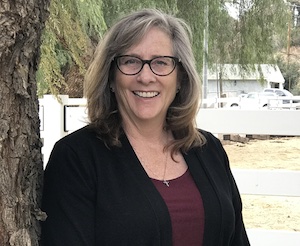 My dad was a bad asthmatic who got sick all the time – because of that I think that it's possible my primary immunodeficiency (PI) is hereditary; but my family never made that connection. I remember when I was a kid in Illinois, shoveling snow one day would mean bronchitis the next. I'd get better, then a week and a half later I'd get sick again. My mom and Dad were always worried – always asking why I was not taking better care of myself. Was I washing my hands? Was I being careful? That was my experience for most of my life. I did not think that I had PI; I thought I was doing something wrong. As a working adult, I have always liked to wear long bohemian skirts. I used to take the skirt and use it to open doors or push elevator buttons – basically trying anything I could do to mitigate my exposure. It never worked. I finally realized that I am basically allergic to the air. When I was diagnosed with Common Variable Immune Deficiency (CVID), I was so grateful to know that I am not a hypochondriac. It was refreshing to realize that no matter how many times I used my skirt, washed my hands or kept my distance – it truly wasn't my fault when I got sick.
What led to my PI diagnosis was a series of progressively bad sinus and upper respiratory infections, requiring multiple courses of antibiotics. These continued even after my initial sinus surgery. My ENT physician-specialist finally decided that all this was not normal and referred me to an immunologist. After a series of blood tests, my immunologist suggested I might have CVID, and wanted to give me a pneumonia shot as the first step in establishing the evidence that my immune system didn't work properly. I argued and argued against the shot, because I feared it would give me pneumonia. But the doctor persisted and I got the injection. As is often the case with PI, after the inoculation my numbers went really high, then over time dropped off to below normal levels, leading the doctor to conclude that I did, indeed, have CVID. As time passed and my immunologist was building my case to present to the insurance company, I kept having sinus infections and bronchitis or pneumonia. After a series of back-to-back infections, he did more blood work. My numbers were so low that he called my husband and me into his office to say that I definitely had PI/CVID and that we had to get it under control. He was planning on submitting my PI/CVID diagnosis to the insurance company the following week. Just three days after that doctor appointment, I once again got very, very sick and very weak. A CAT scan revealed a sinus infection so bad that it had bored a hole from my sinus into my right eye; causing a stye where infection could get into my eye. I had to have immediate surgery. They were worried that I was going to lose the vision in my right eye. In the end, an infected cyst was removed from my sinus. Two weeks after that I went on my first SCIg medication.
Getting It Right
Over the course of managing my diagnosis, I have tried several medications – both SCIg and IVIg. Until cutaquig (Immune Globulin Subcutaneous [Human]-hipp, 16.5% solution), I have always responded poorly, with bad reactions and problems. Previous SCIg therapies created problems with site reactions – terrible swelling, pain and tenderness, along with headaches. In some cases, I had reactions due to improper infusion techniques, pump malfunctions, and nurse error resulting in the contamination of a vial. In response to my persistent negative reactions to SCIg, and because at that time I had developed double pneumonia, my primary care physician switched me to IVIg. No go. I suffered extreme, debilitating fatigue, headaches, and brain fog. You could see the change in me within 15 minutes after the start of my infusion – I just couldn't track anything. And I would be down for about three days. I also had problems with medication infiltration and blown veins. At one point, because I had so much trouble with the veins in my arms and setting the line, we shifted my infusion site to my hands – that hurt like the dickens. The nurse suggested a port for medication, but my doctor and I said no way. I did not want to give every germ open access to my body. During this time, I heard about cutaquig. I gave the information to my primary care physician and he researched the medication and thought this was worth a try. It is important to note: When switching to a new product, it's always possible that you'll have difficulty gaining coverage approval from your insurance company. It is critical that you understand how insurance works and that you are prepared to speak up and advocate for what you want. If you are shy, be a bit bold; move beyond your comfort zone to get what you need. A little self-advocacy can go a long way.
Cutaquig just works better for me. Maybe it's the 16.5% concentration — I have virtually no treatment-related problems. I can infuse at my desk while working, no need for pre- or post-infusion medication, and have no significant site issues. I definitely felt better treating with cutaquig. Being essentially side-effect-free, it was so much easier to go back to being me. When you find the right medication that allows you to be who you are, it is just amazing. Cutaquig has radically changed my life for the better.
My life is a blessing and I am so grateful for where I am today; this journey has given me more strength and courage than I ever thought possible. My husband and I live on six acres of land in Santa Clarita, with five horses. Our daughter is a competitive equestrian, who has ridden all her life. I can do everything around the ranch except feed the horses hay – the mold can make me sick. I am able to work at my job in home care; I am able to work with other PI patients in my capacity as a Patient Educator with Octapharma; I am able to travel. My life is good.
Be Kind to Yourself
When you're ill all the time, you learn a few things – some not so great, like learning to work through being sick. You learn to push it off like it's not a big deal. But you have to be careful with yourself; be kind to you. Pushing through is not always good. It's much better to listen to your body and take a down day when needed. You do have to make concessions to the diagnosis, and that's not always easy. That said, it's a diagnosis and not the definition of who you are. You can make choices about trade-offs in managing how you feel. It's important to recognize that PI can come with a lot of emotional side effects. A good back-end support system at home is important. I am blessed with my family and their understanding of my situation.
Stewardship of the Land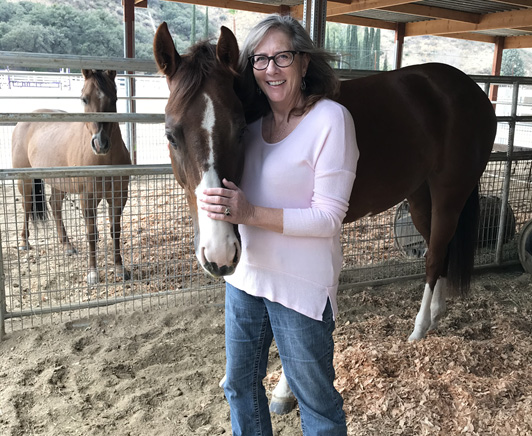 I have to mention one thing, I truly think the IgCares program is amazing and I love it! I live on a ranch, and do my best to be a good steward of the land. That's why I appreciate the recycling program through IgCares. Styrofoam boxes, cooling packs – all the things that would have gone into a landfill, now get recycled. I think it is fabulous. I had never seen anything like this with any other medication in my six + years of infusing, until I moved onto cutaquig. Now, I don't have to worry about critters getting into my trash, or about what to do with the packaging waste. It's all just taken care of. I put it all in a box and ship it off. That's a boon to me and to the world.